*This is not a sponsored post.
As I mentioned in my previous post(s), I'm a huge advocate for simple and effective skincare. No more tons of serums, face washes, facial oils, or harmful exfoliators or peelings. Right now, I'm trying to use the bare minimum and it's working great for me so far.
I had been reading about La Roche Posay's skincare products for quite a while, but I never really thought much of it. Then one day, I noticed that my local pharmacy also sold the La Roche Posay Effaclar line and I realized that maybe it really is as good as people claim it to be. As someone who has been battling acne for quite a few years now, I was intrigued and started a thorough research into the Effaclar line.
In this post I will be reviewing the La Roche Posay Effaclar DUO+ Acne treatment and the Purifying Foaming Gel.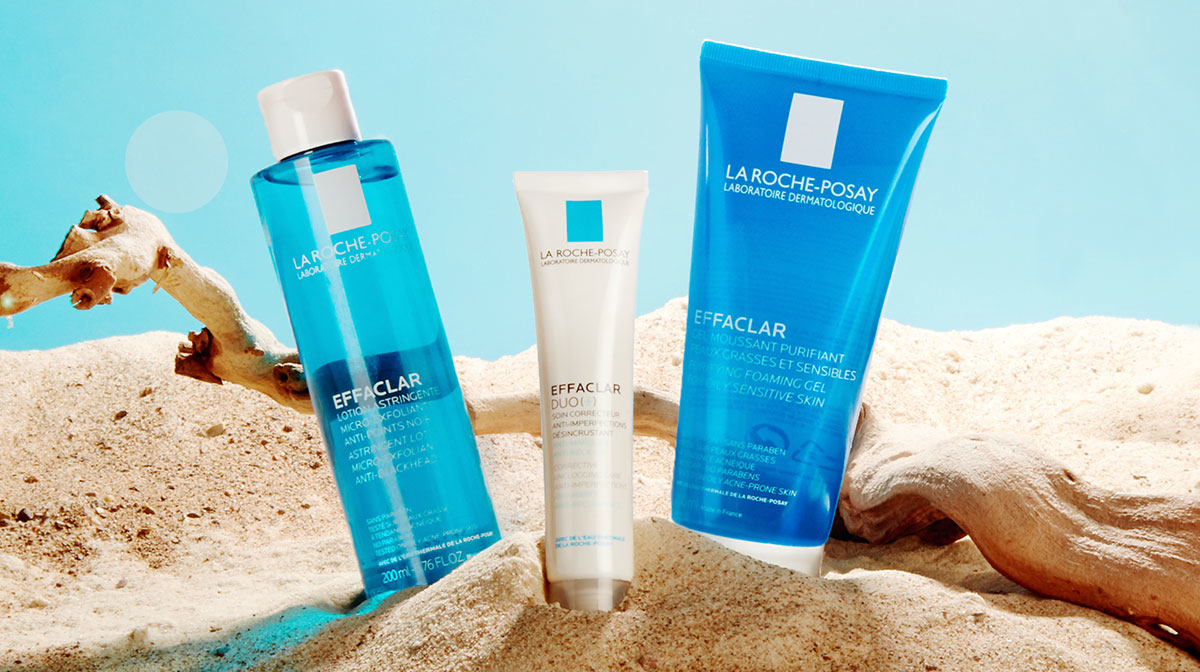 La Roche Posay Effaclar DUO+ Acne Treatment
**La Roche Posay Effaclar DUO+ is also available with SPF or with a tint, I used the original one.
What does the internet say?
First off, I realized that the products were not as expensive as I initially thought. The Effaclar DUO+ is priced between €10-€15, with a typical quantity of 40ml in one tube.
The cream claims to effectively target impurities such as existing and upcoming pimples, avoiding them from coming back (anti-return effect); and lighten and avoid acne scars. This shows that the cream is mainly meant for acne-prone skin. The cream quickly absorbs without leaving a trace on the skin. One of the cream's main ingredients, niacinamide, gives a matte finish. La Roche Posay claims that one should be able to see a significant difference within 12 hours.
Good to know:
Tested on oily acne prone skin, severe and recurring blemishes, and stubborn scars.
Tested on over 6,700 subjects, all skin tones *
Tested under dermatological control
Excellent make-up base
Comfortable texture
Allergy tested
Not comedogenic
Dermatological observational study – 2 months of use, 6 photo types.
Main ingredients and their purposes:
Procerad: prevents the formation of red or brown scars.
Mannose: stimulates skin regeneration.
APF: helps restore the skin balance for a long time.
Niacinamide: intensive sedative ingredient; reduces redness.
Piroctone olamine counteracts bacterial proliferation.
LHA and salicylic acid have a micro-exfoliating effect without irritation
Zinc PCA: keeps sebum secretion under control.
How to use:
1. Cleanse skin thoroughly with the Effaclar Purifying Foaming Gel.
2. Apply a thin layer to the whole face every morning and evening. Only a small amount of cream is needed.
3. Avoid getting this product in your eyes, nose or mouth, or on any broken skin as this may cause irritation. If contact occurs, rinse the area immediately and thoroughly.
4. Apply Effaclar Duo (+) to help hydrate the skin, target pimples and reduce breakout recurrences.
What are my first impressions?
I bought the La Roche Posay Effaclar DUO+ and the Purifying Foaming Gel on Black Friday 2020, and couldn't wait to start using them. I read about some people who mentioned that usage of the Effaclar cream and purifying gel should not be started at the same time, because apparently the skin needs to be given time to get used to the cream first before you start using anything else (this advice came from a pharmacist where they bought it from). This is why I first started using the Effaclar DUO+ for a week, and started using the Purifying Foaming Gel after.
I noticed right away that the Effaclar DUO+ felt very comfortable on my skin. Even though it's not supposed to leave a 'trace' on the skin aside from a mattifying effect, it felt like satin to me. In my opinion, the cream didn't feel very moisturizing (I expected it to because I was going to use it as a moisturizer in the AM and PM), but since I have an incredibly oily skin I didn't mind. If you have dry skin, you might want to apply another moisturizer on top of the Effaclar DUO+ (such as the La Roche Posay Effaclar-H Multi-Compensating Soothing Moisturizer)
The main thing I noticed after using this cream for two months was that I did not get any major breakouts anymore. I do still get the occasional pimple (once in a few weeks) that can be fairly hard to get rid of, but as long as the huge breakouts stay away I am more than content. However, I did not notice any difference in the appearance of my hyperpigmentation which was a bit disappointing. The redness from my hyperpigmentation seemed to have reduced, but my hyperpigmentation itself is still as visible.
Conclusion
I am still using the Effaclar DUO+ every morning and evening, after my niacinamide serum (check out my review on The Ordinary's niacinamide serum here) and I am incredibly satisfied. Truthfully, I was already happy when I didn't get any allergic reactions or breakouts from the product itself which I was a bit afraid of initially, as my skin is very sensitive. If you've got oily, acne-prone and sensitive skin, you definitely want to give La Roche Posay's Effaclar DUO+ a try.
If you're solely trying to get rid of your hyperpigmentation, I would opt for something else.
If you are looking for an effective acne treatment but you have normal to dry skin, La Roche Posay developed the Effaclar-H Multi-Compensating Soothing Moisturizer, which you can apply after the DUO+ treatment. This will keep your skin from getting dehydrated which makes the Effaclar line also useful for people with dry skin.
---
La Roche Posay Effaclar Purifying Foaming Gel
*The La Roche Posay Effaclar Purifying Foaming Gel is available in a triangular tube (200ml) and round bottle with a pump (400ml), the ingredients are exactly the same.
What does the internet say?
The La Roche Posay Effaclar Purifying Foaming Gel has a similar pricing as the Effaclar DUO+, varying from €10-€15 (depending on the packaging).
La Roche Posay's Effaclar Foaming Gel is a mild cleanser targeted on young, oily and acne-prone skin. The Foaming Gel is formulated with thermal water from La Roche-Posay, which has calming and irritation-avoidant features.
Good to know:
Foaming, lightly scented and hypoallergenic gel texture
Tested under dermatological control
Without alcohol
pH 5.5 (physiological)
With sulfate
Against impurities and excessive sebum
For oily skin, blemished skin, acne-prone skin
How to use:
The Foaming Effaclar Gel may be used 1 to 2 times a day (morning and / or evening).
In the hands, lather the gel with some water and massage gently on the face. Rinse thoroughly with water.
What are my first impressions?
The Foaming Gel is indeed very mild and gentle on my skin, the first thing I noticed is how my skin wasn't left with an immense redness after washing my face (which I usually get from harsh cleansers). I was also happy to find out the product itself didn't cause any breakouts, as I have a very sensitive skin. I am convinced that this product, in combination with the La Roche Posay Effaclar DUO+, is the reason that I haven't had any major breakouts ever since I started using the products.
In my opinion, there are a few turn-offs that come with this product though. One of them is the fact that the product contains sulfates, which I am not a big fan of (and you shouldn't be either). Sulfates are not the best for your skin, but I think it might have been necessary for the gel's purposes. Another turn-off is that the gel is not the best cleanser for (waterproof) makeup. It's a good thing that we're mostly staying home right now and not wearing much makeup, so the cleanser is fine for now. But when the time comes that we start going out to the office or school every day, I might need to use another kind of cleanser before or after, to make sure no traces of makeup are left on my skin.
Conclusion
In my opinion, La Roche Posay Purifying Foaming Gel does what it claims to do. I also like the fact that La Roche Posay is honest and transparent of the product containing sulfates, which many brands usually don't. This cleanser is great for anyone with oily skin, as it effectively reduces excess sebum (which causes oily skin) and keeps acne at bay as much as possible. If you're someone who wears lots of waterproof makeup, you might want to consider using another type of cleanser before or after this one, or opt for another cleanser altogether if you'd like to keep your routine as simple as possible.