Good morning! I hope you're all doing well and staying healthy; both physically and mentally.
First off, brace yourselves, as this will be a rather long blog post (but do you have anything better to do, right now?). But, it's also filled with lots of great tips and inspiration to drag you through another lockdown, so better keep reading!
Looking back at 2020, I think it is safe to say that this was the most challenging year many of us have ever been through. Some lost their jobs, some are still fearing for their job, some couldn't graduate on time, some lost a loved one and couldn't say goodbye, some are having trouble dealing with a full house at all times, and some are experiencing a terrible loneliness. All we could do was sit at home, find ways to keep ourselves sane and hope that 2021 would be better and more promising. But, through all the stress, anxiety and worrying the past year has caused us, we tend to forget about the positive aspects; because we also learned a lot. We learned how to be alone without being lonely (and some are still learning, and that's totally OK!); we learned to be more creative in order to keep ourselves busy, to keep in touch with loved ones or to keep our businesses standing; and perhaps the most important lesson of all: we learned to listen to ourselves, our needs and wants, and we started spending more time on self care and researching mental health. We got to know ourselves better on a physical and mental level, and that might be one of the most positive things 2020 taught us.
And then, as if things weren't hard enough already, several more infectious mutations of the coronavirus made their entrance and resulted in new lockdowns in many countries worldwide. This second (and in some countries third!) lockdown feels harder than ever, and at this point we're very close to giving up on all our plans for 2021 as well. However, I'm definitely not thinking that all hope is lost for this year as well. In fact, I'm still quite hopeful. I mean, we didn't expect to just leave COVID-19 behind in the past year just like we did with our toxic friends and bad habits, right? If only it were that easy…
The new year started off with fresh hope and positivity: the vaccines. Even though there is still a lot of controversy surrounding the vaccines, at this point they are one of the few things that could help us get our normal lives back faster. The other thing? That would be us listening to our government's restrictions by staying home as much as we can, wearing our face masks and avoiding unnecessary social meetings.
And now, the reason why you're really here: how the hell are you going to survive another lockdown?!
1. Accept the situation
Okay, yes, we were all hoping that 2021 would be a better and more promising year for all of us. Now we're approaching February and things didn't get as good as we had hoped yet, making it hard to keep up that optimism. I am not going to tell you that everything is going to be okay (which it eventually will) because we all know that's not making anything better. Instead, I am going to tell you to sit back or lay down, take three deep breaths, and realize that you as an individual cannot change this uncertain and scary situation. The entire world is fighting against this pandemic and we are all struggling, some more than others but that definitely doesn't make your struggles any less serious.
You can spend hours, days, weeks or even months worrying about the number of COVID-19 cases and deaths, overcrowded hospitals, people protesting against the restrictions and much more. But is your worrying going to improve the situation? If anything, you'll only end up feeling worse and more anxious and the situation will not have changed a single thing. In conclusion: try to accept the situation you're in. Tempted to check the latest news every other hour? Try turning off notifications for news apps or social media notifications and limit your time to check up on news to one hour day, let's say between 3PM and 4PM. This gives you enough time to catch up on anything you missed in your country and/or around the world and after that, you can tell yourself it's time to focus on other things now.
Also important: Your feelings and emotions are extremely valid and you should acknowledge them. It is totally okay to feel sad, anxious, mad, confused or depressed. Accept the current situation we're in, but also accept the way you're feeling.
2. Stay in Touch
We all know that the best thing to do right now is stay at home and physically isolate ourselves from the outside world. This makes it tempting to isolate ourselves altogether, as you don't see your colleagues, friends or family as often as you used to. During the first lockdown, many people decided to focus on themselves and get their sh*t together while (often unconsciously) 'abandoning their loved ones' for a little while. This isolating behavior is more common than you might think, among all generations.
Sometimes you just want to stay away from your electronic devices and spend the day watching your favorite TV show, going for a walk in nature, reading that book you haven't touched since you bought it or finally pick up a brush and start painting again; and there is absolutely nothing wrong with that. In fact, I encourage you to do all that! Be creative, find a new hobby, learn a new skill, explore your neighborhood, you should! But this does not mean you don't need any social interactions at all, because you do.
If you are one of these people who tend to isolate often or if you know someone who is, you know better than anyone how easy it is to assume that "they don't check up on me so they don't like me" or "he hasn't replied to my text in days, maybe he's mad at me?". Instead of assuming, tell yourself to 'be the bigger person' and communicate. Double-text them, make that phone call, visit that someone, start the conversation again, it will be appreciated because god knows we all need to have that someone in our lives right now. Now more than ever, we all need someone to share our thoughts and feelings with. Whereas last year we simply would've gone for a cup of coffee, brunch or dinner to catch up with someone; right now a (video) call or text will have to do.
TIP: Show your genuine interest and ask deeper, more meaningful questions.
Also important: We're humans, and we judge, a lot. Sometimes we're aware of our judgmental behaviour, and sometimes we're not. Either way, that's okay. But now that we're all living in uncertainty with lots of extra time on our hands, it is even more tempting to find out how other people are coping. But here's the thing, try not to judge someone on their social media activity! By now you must know that people always share their successes, achievements and good times, never failures and bad times. Maybe that one friend who keeps sharing her new recipes, paintings, yoga tricks and WFH-tips on her Instagram-story is struggling with loneliness, staying awake all night worrying about her uncertain future while being triggered by dark, scary thoughts. At the same time, you're making yourself feel bad because she's oh-so-active and seems to be handling it all so well. No, this does not mean you should be DM'ing your entire following-list to make sure they're all doing okay (unless you want to, that's fine too, I guess), just make sure to never assume anything based on what you see on social media.
3. Find Structure and A Routine
Now that we're all working or studying from home, it's hard to keep your professional, academic and personal lives separate. We're replying to work emails while walking around in PJ's, we're attending online classes while still laying in bed…We're waking up later, going to bed later, and basically we're doing everything we couldn't dream of doing before COVID-19. For the first few weeks, this was all okay and sometimes it was even fun! But now that we're heading into another lockdown, you can feel the lack of structure and a routine taking a toll on your mental health.
This is why I advise you to plan your days or week ahead and create some structure for yourself. For instance, free up some time on a Sunday afternoon to sit with your agenda and your to-do list. What are you going to do next week, and when? Also don't forget to schedule in some time for yourselves, which can be as easy as a 15-minute walk around the block or a long, hot bath with candles and a glass of wine (preferably on a Friday, in case the wine-drinking gets out of hand and you end up waking up with a terrible headache….).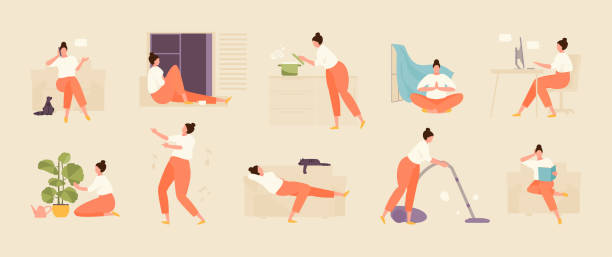 Why is structure so important? You see, if you wake up at irregular times every single morning with no routine or planning for the day ahead, your mind gets confused and you automatically start feeling unproductive and unmotivated. Both of which you probably cannot use right now, as following online classes or meetings are hard enough as they are already. Structure is also important because it gives us a kind of certainty, something we've been craving for nearly a year now. No, we still don't know how long this pandemic will last and we still cannot plan our plans for spring break or the summer. In fact, we don't even know if we'll be able to spend the Holidays this December with our entire family again. Lots of uncertainties, so if we can successfully create a certainty for the following week, it can only do us good. Let's focus on the present and the short-term future right now, the long-term future is yet to be decided and that is okay.
4. Spend Your Free Time Wisely
Nearly one year ago, out-of-nowhere, we stopped waking up early to get ready for work, school or other responsibilities. From that moment on, all we had to do is look appropriate enough for a Teams or ZOOM meetings that only take up a few hours of your day.
We lost the everyday routine that we were so used to and we're not sure what to do instead. You're aware that you have more free time than ever, yet we still tend to do the things we're comfortable with (A.K.A. Netflix! All! Day! Long!). We know it's not healthy and we know we can do better, but we don't. We're getting lazy! But why not use all this free time to do the things you never had the time to do?
What worked for me was finding a new hobby and picking up two other hobbies that I didn't have the time for anymore. The new hobby I turned out to love a lot is painting. On Instagram, I saw a few of my friends who picked up painting and they all seemed to be incredibly talented; or was it just really easy? I decided to try it out for myself I ended up loving it. For me, it was more about the relaxation and calmness it brings to my mind. I don't really care too much about the results, I just love putting all my thoughts and energy into creating something. From that moment on, I started painting a few times a week.
The two hobbies I picked up again were learning Spanish and reading romantic comedy novels. Ever since I came back from Spain, I didn't have anyone to speak Spanish with anymore. I went back to speaking Dutch all the time and almost entirely forgot my Spanish knowledge. Then, a few months ago, my Spanish cousin called me and I realized how much I was struggling to understand her. This shocked me because I used to perfectly be able to communicate with her when I visited her in Spain. This made me want to start learning again, I started listening to Spanish podcasts at night, analyzing the lyrics of my favorite Spanish songs and I even started talking to myself, in Spanish! It's been working great so far.
Other hobbies, skills or activities to keep yourself active and productive could be writing (blogs, novels, poems, etc.), playing an instrument, yoga, drawing, following an online course, etc.
Why is it so important to fill your free time with activities rather than watching Netflix all day? Because when you do, you get this feeling of accomplishment at the end of the day; and that feeling of accomplishment is much needed now that we are not physically going to the office or school anymore.
5. Get Outside & Keep Moving!
Many countries have closed their gyms during lockdown, and if the gyms in your country are open you might still hesitate to go (totally understandable!). However, it is still important to keep moving. When we work from home or follow classes from the comfort of our warm and cozy beds, it is incredibly tempting to stay in all day and not get any fresh air at all. You might consider going outside for your weekly (or every-other-day) trip to the grocery store to be enough, but it simply is not. Aside from not getting enough fresh air, we tend to eat more now that we spend more time at home. Another reason to get some exercise! A daily 20-minute walk or run will suffice, as long as you get yourself out there. In addition to the walk outside, you can opt for at-home workouts (yoga, pilates, muscle training, etc.). Whatever you choose, make sure to keep moving!
When you live in a crowded city or if you have a busy lifestyle (despite WFH), you're more likely to get stressed, neglect your (mental) health and get a burn-out. To avoid this, try implementing simple selfcare methods in your everyday routine, such as a no-phone walk outside.
TIP: Consider a weekly walk in nature to calm the mind and gather your thoughts (which means no phone, no music, just you and your mind!). You might not think you need it; but before you judge, try it first. Really. You're going to love it.
---
I hope these tips and little bits of advice have given you more inspiration and motivation for another lockdown. It's an incredibly weird and uncertain time and we're all trying to make our way through, you're definitely not alone in this. If you do need someone to talk to, someone to give you advice or simply someone who wants to listen to you, feel free to send me an e-mail (manishas989@gmail.com) or contact me on any of my social media profiles.