As some of you know, three years ago I decided to move to New York where I worked as a marketing intern at Only Hearts, located in the Garment District, Manhattan. For many, moving to New York City sounds like a 'dream come true', and let's be real, it is. I had the most amazing experience there and it was incredibly hard to leave that life behind. But, even though I had been to the city before, there are a number of things I wish I had known before I came to New York for a longer time. Keep reading to find out more! Please note that the points below are all based on my own knowledge, experiences and opinion. This is not a sponsored post.*
---
1. Understanding the Subway system
These days, every big city has a subway system. It is often considered one of the fastest, cheapest and most efficient ways of getting around. You'll most likely find a subway station around every corner in New York, so it's no surprise that the subway is the most popular public transport method in the city.
If you're staying in New York for a week or perhaps only a weekend, you might be fine with blindly following the instructions on Google Maps; but when you're planning to stay for a longer time, I would recommend you to really try and understand how the New York subway system works. In fact, when you're not actual from the States, it might be essential to spend some time studying the system. Uptown? Downtown? Staten Island-Bound? Queens-bound? And what's the difference between all the letters and numbers on the map?
Boroughs
If you're getting overwhelmed by as much as looking at the NYC subway map (totally understandable), you should consider studying the map before your departure to the city. Or, at least make sure you know where the five boroughs (Manhattan, Bronx, Queens, Brooklyn, Staten Island) are located. This will help you understand in which direction a train is going when it says "Bronx-Bound" or "Queens-Bound".
Tip: Don't just focus on how to get to the locations you're planning to visit. Make sure you know how to get around if a subway falls out and/or if you need to take the bus.
Tourist tip: Yes, taking the Subway is often faster but you don't get to see much of the city when you're traveling underground all the time. Planning to visit Staten Island? You should consider taking the (free) Staten Island Ferry. It is a fun experience and you get to see the Statue of Liberty! Many people enjoy walking over the Brooklyn Bridge on their way to visit Brooklyn, and then take the bus/subway back to Manhattan. The Brooklyn Bridge is one of the most popular tourist spots in NYC and a great setting for the perfect "Look! I'm in New York!"- Instagram photo.
Uptown vs. Downtown
NYC subways often use words such as "uptown" and "downtown" to indicate the direction of a train, rather than "north" or "west". This can be quite confusing for (European) tourists, as "downtown" is often associated with the center of a city. When I found out what it meant, it was like a new world opened up for me (for real though, everything started making so much sense). I suddenly knew exactly where every train would be going, simply by studying the map below.
For a complete overview of the NYC subway-system, click here.
Tip: Take into account that some trains might run on different lines and/or times on the weekends. The subway operates 24 hours a day, but not all lines operate on all times. Also make sure to stay up-to-date with planned service changes on certain lines.
---
2. do you really need your daily Starbucks?
Many people try to live up to the "American aesthetic" and walk into every single Starbucks to see, because 1. it's familiar, and 2. they do it for the Gram! Everyone is so familiar with the brand, and we're all willing to pay $5 for a small (tall) cappuccino. Alright, sure, the coffee is good- but is it worth it?
Especially when your life pretty much depends on coffee and you're planning to stay in the city for a longer time, you might want to look for 'cheaper' alternatives. Because, believe me, daily $5 cappuccinos really add up. Lucky for us, the city is filled with small coffee shops and coffee to-go carts where you can get coffee that is just as good and sometimes even better (!), and in most cases way cheaper. Just for the sake of getting the 'full NYC experience', try getting out of your comfort zone and walk into that coffee shop you've never heard of before; you'll be surprised! Tip: Gregory's Coffee was my favorite! Okay, truth be told, Gregory's Coffee is not much cheaper than Starbucks. However, I personally preferred the quality and it shows how many Starbucks alternatives are out there.
Other great alternative coffee shops in the city are Culture Espresso, Little Collins, REX, and Hi-Collar. For more outstanding coffee shops in the city, check this out! But of course, if you just really like Starbucks- keep doing you!
Tip: If you're looking for more than just coffee (it's New York after all…), there's a cute barista guy working at the Starbucks on 34th St-Herald Sq!
---
3. price differences
This one might apply more to short-stay tourists than people who're staying for a longer time, assuming you won't be hanging out around Times Square every single day, but it's still a great piece of advice to keep in mind. Alright, it's quite predictable but also easy to forget in the moment: everything is more expensive at tourist spots. Whether it's a meal at McDonalds, a t-shirt from H&M, a Statue of Liberty souvenir or even a simple coffee; keep in mind that you will definitely be spending a few dollars extra at stores at or around Times Square, compared to, for example, the Lower East Side. So, if you're not in a rush, you might want to avoid buying non-essentials at tourist locations.
If you're living in Manhattan, groceries might be tricky. There is no Walmart to be seen, and every Target and Duane Reade seems to be packed with tourists. Don't be afraid to go out of your way and find a Whole Foods Market or another grocery store, because there are plenty of them in the city! Click here for Yelp's Top 10 Best Grocery Stores in Manhattan.
---
4. Asking for help
Whether you're in New York for a short trip or a few months, there will undoubtedly be a moment where you'll have to ask someone for help. As the city is probably filled with tourists, finding a local can be quite the challenge.
Speaking from my own experience, you should probably stay away from business people (women or men in suits) on the streets. They're often in a rush and will most likely give you a short, sometimes even rude, answer. Also make sure the person you're about to approach is not on the phone. It's going to seem like all the locals in NYC are on the phone- all. the. time. They'll have their bluetooth's, earphones or AirPods in and start talking out of nowhere.
The best place to approach locals for help is on the subway / at the subway station, as this is where most people are waiting and probably don't have anything better to do. Also, it is often the young adults and elderly who don't mind helping (lost) tourists.
Tip: When asking for help or directions, try to be as clear and specific as possible. New Yorkers are often willing to help you, but asking "do you know how I can get to that super tall building near the park?" is not going to get you any happy responses.
---
5. taking the taxi
Let me start by saying that I will gladly choose the subway, bus or walk to my destination over anything. But in some cases you just don't feel like it. Maybe it's freezing cold outside and you need to get somewhere just out of the city; or maybe it's raining, the subway station is a few blocks away and you forgot your umbrella. In these cases, you should probably take a taxi, UBER, or Lyft. No, it's not the cheapest and probably not the fastest option, but really, don't torture yourself!
During my stay in New York, I had never taken a taxi because I simply didn't need it. I always used Google Maps and found my way to any destination without much trouble. Then my parents came to visit in November, and my mom hurt her knee quite badly. She literally couldn't walk anymore and my parents only had a few days left before their flight back. We took her to an emergency clinic and it turned out she was going to need surgery very soon. She chose to get the surgery back in the Netherlands; so for the time being, she got lots of painkillers and we got her crutches.
She couldn't walk up and down the subway station stairs anymore but we still wanted to get around in the city (it was Thanksgiving & Black Friday, duh!); so we figured out how to get an Uber. We used Uber to get to all our dinner plans for Thanksgiving and we visited the Queens Mall on Black Friday. After my parents left, I never stopped using Uber. I used it to get groceries or to visit a family member, or I used it to get to the subway station instead of waiting for the bus in the rain. It made my life SO much easier.
Tip: Unless you're loaded, you should probably avoid taking an Uber between boroughs (e.g., from Queens to Manhattan, Manhattan to Brooklyn, etc.). This can get pretty expensive as the driver will most likely have to pass toll-roads, tunnels or bridges + traffic on NYC highways and parkways can be crazy when you happen to be traveling at an unfortunate time.
---
6. Getaways
If you're staying in the city for a longer time, it might get overwhelming at one point. There's always something going on, everywhere. There's never a moment of silence. Locals (and tourists) love it, but they also know that you have to get out of the city from time to time. Fortunately, New York offers lots of getaway places to get away from the crowd. If you find yourself overwhelmed, try visiting some of my favorite locations:
Roosevelt Island

. I visited Roosevelt Island with the cable way, but you can also get there with the subway (it's just a less appealing view…). Roosevelt Island is located between Manhattan and Queens even though it's a popular tourist spot, I've never seen it quite crowded. Plus, it's a nice change of scenery. You can basically look into Manhattan, from the outside, and it's pretty amazing.
Staten Island

. Many people go to Staten Island to experience a trip on the infamous orange ferry, and then they wait for the next ferry back. My tip is to actually get out of the port and go for a walk around Staten Island, it's a very calming environment and a great spot for photos.
Brooklyn

. Dumbo is one of the most popular neighborhoods in NYC, located in Brooklyn. For this reason, many people don't bother walking around more and discovering the beautiful borough that is Brooklyn. The streets are quiet and beautiful and really scream "New York City" without well, the loud noises of the city. Make sure to enjoy the view at the Brooklyn Bridge park as well!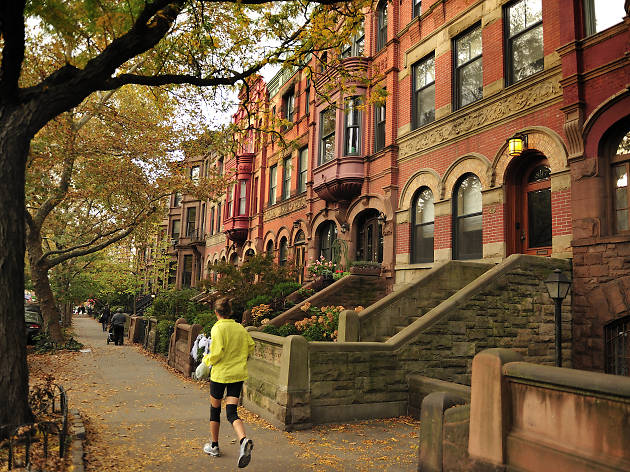 So, those were the 6 main things I wish I had known before I moved to the city. Of course, there are many more things that I only discovered during my stay; but then again, that's exactly the beauty of moving to a new city. What's the fun of doing something when you already know what will happen? Keep an open mind, let new things come to you and let yourself be surprised. Learn new things. Create new memories. Yeah, you will probably feel like a whole different person, New York will do that to you- and that's okay. Enjoy every single moment.